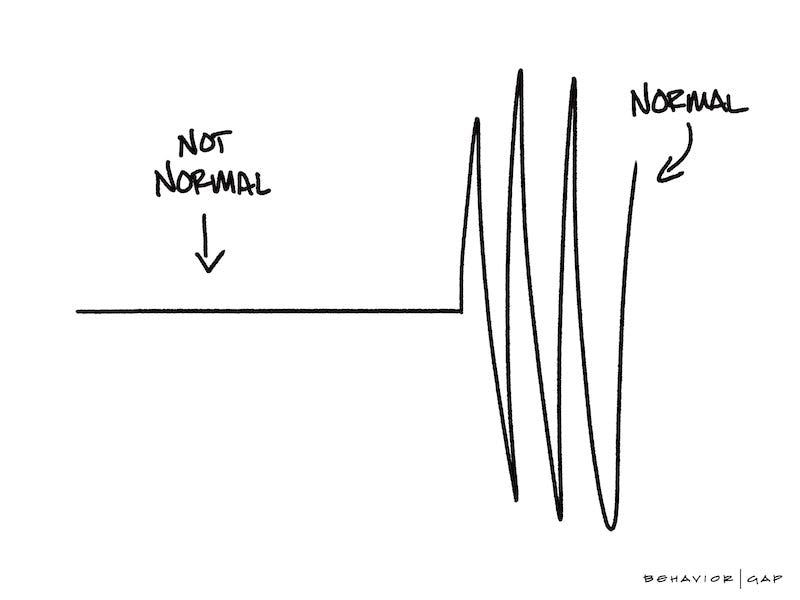 Carl Richards is a Certified Financial Planner™ and creator of the Sketch Guy column, appearing weekly in The New York Times since 2010. The following article is reproduced with permission from his weekly newsletter and his website can be found here.
Greetings, Carl here.
Imagine it's a very still day, and you're in a boat on the ocean.
There's no wind.
No swell.
The water is as flat as a mirror.
The calm goes on just long enough for you to start to feel like it's normal.
Then a small wave comes… it feels huge.
And you're shocked at how enormous a regular wave feels.
As scary as it might feel… it's important to remember that waves are normal.
In fact, occasional storms are normal.
And the last thing you want to do when you get into a storm is abandon ship.
-Carl
P.S. As always, if you want to use this sketch, you can buy it here.
P.P.S. If you want a beautiful, elegant work of art… The 2023 Behavior Gap Calendar… now is the time to raise your hand and join the 600+ others who are ready for sales to open! If you miss the order window, don't send me a "super-sad-story-email" asking if you can still get one (I'm looking at you, Jim from last year). Consider yourself warned.